Welcome to the Early Years Foundation Stage
In Early Years (Nursery and Reception) we pride ourselves on giving the children every opportunity to learn through a rich and varied curriculum designed to encourage independence, resilience and curiosity.
We follow Development Matters as a guide to designing our curriculum and supporting individual children's learning and development. Alongside the Prime and Specific areas of learning and development, we ensure our practitioners are developing the children's characteristics of effective learning, which we feel are important building blocks for the children to become effective learners for life! The full development matters document can be found here.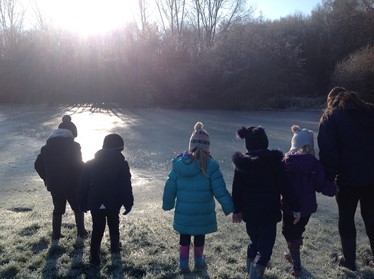 In order to support your child in school,  we ask that you help your child become independent in tasks such as dressing/undressing, putting on shoes and socks and doing up zips!  We do not send out formal homework in Early Years, however once your child brings home a reading book and diary, we ask that you read at least three times a week and write in their diary.  If you wish to support your child further in their learning, you can find a list of useful websites, some of which we use in class, here.
Useful Websites:
Alphablocks: Useful for segmenting and blending of words and articulations of phonemes.
https://www.bbc.co.uk/cbeebies/shows/alphablocks
Phonics Play: contains phonics games used in class. 
https://www.phonicsplay.co.uk/
Numberblocks:  A good website for introducing mathematical concepts.
https://www.bbc.co.uk/cbeebies/shows/numberblocks
ICT games: Maths and Literacy games from Reception onwards
BBC School Radio: a selection of songs and stories designed for EYFS
https://www.bbc.co.uk/programmes/articles/5RMpbn1X8tMkMQgw0GRhz8L/early-years-foundation-stage-eyfs
Twinkl: You can access some free resources to support learning in all areas.  Sign up is required.