Eco Committee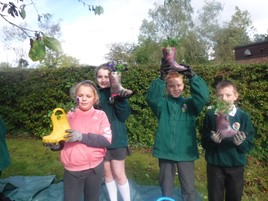 Eco Projects and Tips - Autumn 2021
A tip to help you reduce your environmental footprint. Find out what you already own before ordering more. We collected all stationery stock from our classrooms and redistributed it equally between our classrooms BEFORE we ordered any new stock. That way we eliminated ordering items we didn't need extra of.  We saved money and used resources we already owned.  What steps are you taking to reduce your purchasing (at work and at home)?  We'd love to hear them!
Eco Highlights from 2020
Year One
The children in Year One were very excited to have a resident blackbird setting up home in the Courtyard, located in our wood store. It provided opportunities for discussion, and we were able to use this incidental learning to research more about blackbirds in our Computing sessions.
The children watched the female bird lay four eggs and were able to watch the chicks grow. Although they were sad to see them fly the nest, the children understood that it was part of their cycle of life.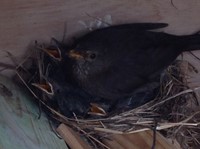 Base 13
Base 13 love the garden they have created outside their classroom. They love working out in the garden when the weather is sunny, taking it in turn to water and look after it. The plants are helping to attract bees and other creatures. The planters were made from old wooden drawers that were going to be thrown away, but they upcycled the drawers instead.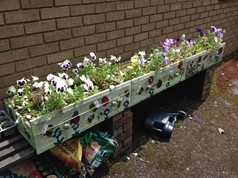 Base 15
Base 15 used a range of materials to fill our bug hotel - making a lovely habitat for any visitors to our garden!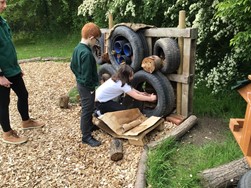 Miss Scott
Miss Scott has been participating in lots of eco actions this year both at school and at home!
She has been doing her bit for Earth Hour, as shown in the photograph.
After becoming more aware of storage required for emails, she's become more diligent in deleting/deleting emails she no longer needs. As part of the "delete your emails" challenge, Miss Scott was awarded an air purifying plant for her office, which she is taking good care of. At home she has been replanting seeds from previous years flowers.