Learn Telford - High quality learning opportunities to the people living in the borough.
We would like to know what FREE courses you would be interested in attending at Hollinswood Primary. The following questionnaire has some ideas: Family Learning Courses. Alternatively, you can email: abigail.scott@taw.org.uk (Inclusion Leader) to indicate your interest. 
May 2022:
April 2022:
March 2022:
L1 Award in Craft and Enterprise
Introduction to Child Behaviour  
January 2022:
Sweet Treat and Healthy Eats
November 2021:
January 2021:
Spring Crafts & Healthy Eating
English Skills (to be run at Hollinswood Neighbourhood Centre)
November 2020:
Festive Crafts for Wellbeing - Click here to see the fun we had and the amazing festive crafts created.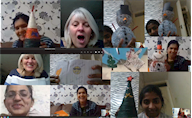 For more information about the courses run by Learn Telford follow the link: http://www.learntelford.ac.uk/